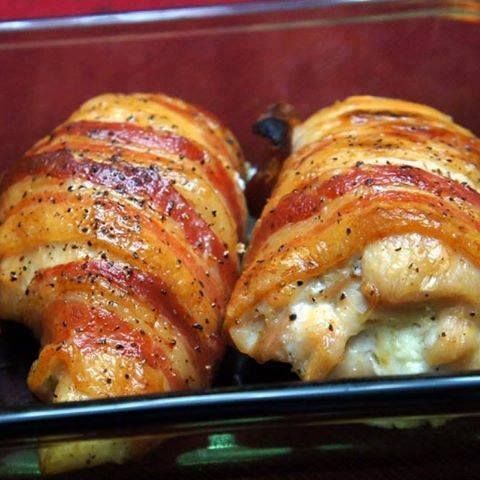 A simple recipe for chicken stuffed with cream cheese and chives covered in baked bacon. Make it as written or add more flavors-as you want, change it!
With this recipe, be creative! Test for various fillings such as meats, more bacon, or veggies such as spinach, for example.
INGREDIENTS:
– 470g chicken breast ( boneless and skinless), cut into 4 pieces.
– 4 tbsp of cream cheese.
– 1/4 cup shredded pepper jack cheese.
– 2 tbsp chopped green onion.
– 8 pieces of bacon.
DIRECTIONS:
– STEP 1: Slice the chicken breasts into four bits of the same size.
– STEP 2: Comb together the condensed cream cheese, the chopped green onions, and the chopped pepper jack cheese.
– STEP 3: In the center of each chicken slice, add a quarter of this mixture.
– STEP 4: Roll up the chicken breast on the long side and leave the cheese mixture in the middle.
– STEP 5: Pack from 1 to 2 slices of bacon around the stuffed breasts, secure with a toothpick, if necessary,
– STEP 6: Put on a baking sheet and bake at 375°F, for 30 TO 35 minutes.
– STEP 7: Broil the topside for around 7 minutes until the bacon is absolutely brown and crisp. Turn each breast and grill for another three minutes.
– STEP 8: Serve straight away.
THIS RECIPE SOUNDS SO GOOD. Bacon, chicken breasts, and Cream cheese, ohhhh I'm obsessed. I Love it so much!
ENJOY IT!!
For Ingredients And Complete Cooking Instructions Please Head On Over To Next Page Or Open button (>) and don't forget to SHARE with your Facebook friends