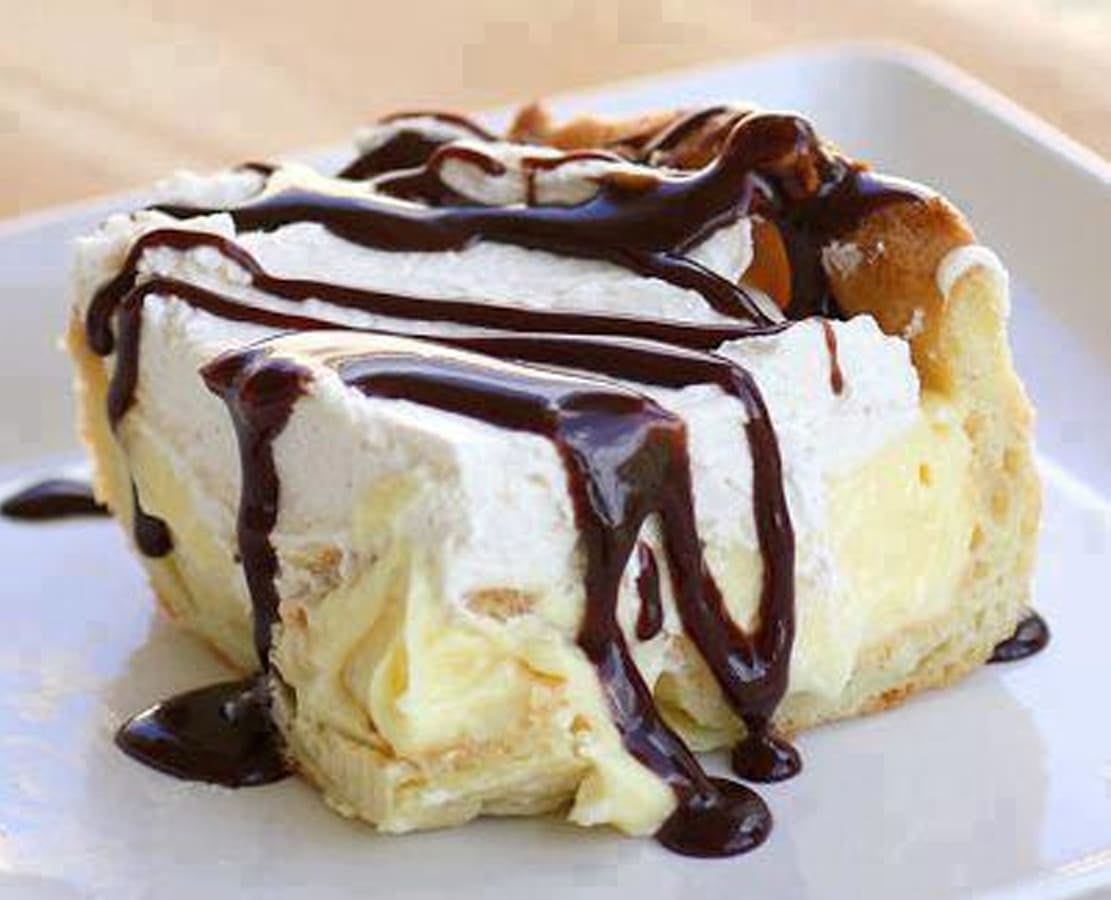 INGREDIENTS
Crust:
1 cup water
½ cup butter
1 cup all-purpose flour
4 large eggs
Filling:
1 (8 ounce) package cream cheese, softened
1 large box (5.1 ounces) vanilla instant pudding
3 cups milk
Topping:
1 8 oz. container cool whip
chocolate syrup or homemade chocolate sauce
DIRECTIONS:
Preheat oven to 400. Lightly grease a 9″X13″ glass baking pan. For the Eclair Crust: In a medium saucepan, melt butter in water and bring to a boil. Remove from heat. Stir in flour. Mix in one egg at a time, mixing completely before adding another egg. Spread mixture into pan, covering the bottom and sides evenly. Mixture will be very wet. *If the sides of your pan are too greased you won't be able to get the mixture to stay up the sides so make sure to just lightly grease. No big deal but I like the crust to go up the sides a bit. Bake for 30-40 minutes or until golden brown (Mine only took 25 minutes.) You may want to check it occasionally-you don't want to overcook the crust, it will ruin the cake! Remove from oven and let cool (don't touch or push bubbles down). For the Filling: Whip cream cheese in a medium bowl. In separate bowl make vanilla pudding by beating the pudding mix and the milk for 3 minutes and put in the fridge until set. Make sure pudding is thick before mixing in with cream cheese. Slowly add pudding to cream cheese, mixing until there are no lumps. Let cool in fridge.When the crust is completely cooled, pour filling in. Top with layer of cool whip however thick you want it. Serve with a drizzle of chocolate syrup.
For Ingredients And Complete Cooking Instructions Please Head On Over To Next Page Or Open button (>) and don't forget to SHARE with your Facebook friends
advertisement