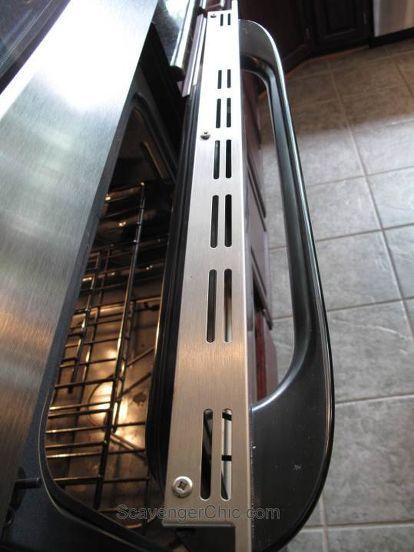 About 5 years ago, it was definitely a Thursday…how do I know it was a Thursday?Because it was Thanksgiving. We had just bought a great double wall oven. The old one had bit the dust and wasn't keeping the temperature any more. So we had this great wall oven delivered just in time to entertain about 20 members of our family.
Things were going along great, all the sides were done, the turkey was done and ready to be removed from the oven. The only problem was that when removing the turkey from the oven he managed to drip, and that dripping found its way to the inside of the oven door. Yup dripping between the glass. And that is how my oven door has looked for 5 years.
See those vents in the door, they lead right to between the glass.
Over the years, I did get out the owners manual to see if there was any way to clean the glass. I also unscrewed the screws but nothing moved.
Fast forward to this week, when I'm on Pinterest and lo and behold I find someone that has successfully cleaned between her glass on her oven doors. Her screws were placed a bit differently than mine but I was willing to give it a go one more time. Maybe I was missing something.