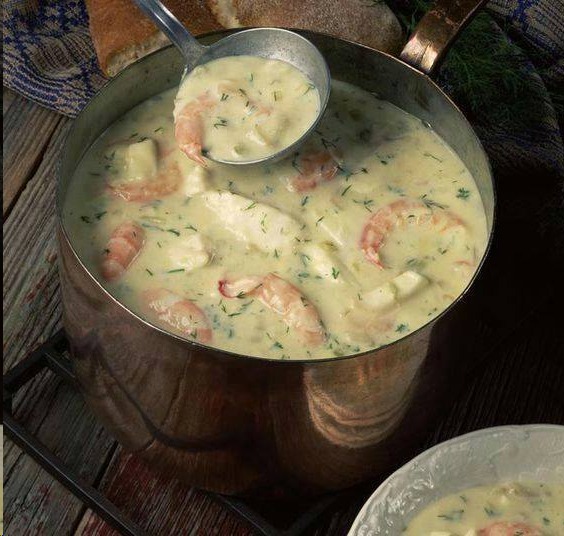 Most Helpful Reviews From Allrecipes.com
This was a wonderful base to start experimenting with. We tried this recipe last night. After some changes we think we have found the perfect cream of crab soup. Being Marylanders we know cream of crab! Our changes – no salt, we used black pepper instead of white, 1 tablespoon of onion, leave out the shrimp – we tried it with and without, ¼ pound crab meat is enough, used 1/8 cup regular sherry (not cooking sherry) instead of the wine which really doesn't go with crab like sherry does and Old Bay sprinkled on top. With these changes it really is as good as the cream of crab soup you find at the best Maryland restaurants.
Absolutely delicious! I went ahead and make it with just a 1/4 cup of wine. I tried both with all shrimp and all crab, but I liked it better with all shrimp. It tasted like something you would get at an expensive restaurant. It was real easy to make, too. I think that it was meant to be used as a small appetizer served in a cup, thats why the servings are so small. It does, however make a generous 2 servings, if you are using it as a main dish (especially since its SO filling!). I served it with cheese-garlic biscuits, a winning combo.
I have to say that this recipe is delicious and darned near fool-proof! I took almost EVERYone's suggestions, and it still came out glorious. I used fresh Jonah crabmeat and minced shrimp (although I now agree with other reviewers who said, "Use one or the other seafood, not both." The textures do not mesh well, at least not for me.) I increased both the butter and flour to 3T, and added one pressed clove of garlic as the butter melted on low heat (caution: do NOT allow the garlic to turn brown; it becomes bitter, and will ruin the whole thing) and stirred in the flour as the garlic became fragrant. Added a little onion powder and some parsley mixed in the flour, and used chicken base, as that is what I had on hand. I split the difference with the wines; I added 1/4 cup of each! After the second adding of half and half, I customized the seasonings for our taste — paprika for colour, Old Bay, and a dash of cayenne. Fabulous, fabulous, FABULOUS recipe! Thanks for posting it!
A very good and rich soup. I will definitely make this for company. Next time I will use only 1/4 cup wine and will use either all shrimp or all crab. One thing though, this recipe does not make 6 servings. I made this full recipe as a dinner for my husband and I and we had two medium size bowls each and finished the pot. This makes either 2 generous or 4 medium size servings.
I made this Feb. 10/07 for a dinner party for 12 and it was a hit! I served it as an appetizer with fresh bread. Thanks to the reviews, I omitted the shrimp, loaded up on the frozen crab meat, added crushed garlic (cooked down in the butter), black pepper instead of white, cornstarch instead of flour sherry instead of white wine. I used lactose free milk instead and a dollop of half and half. I forgot to add the chicken base but found that I didn't need it. Thanks a million!
This was pretty good but I gave it a 4 because I made a few changes. I used all crab meat and used green onion rather than regular. I left out the chicken bouillion, made my roux and then sauted some garlic, the green onions and the crab meat, so the crab could really soak up that flavor. Next I added about half of the 1/2 and half and a TON of paprika–probably 3 Tblsp. Once it began to thicken I added the rest of the half and half and about a cup of sherry instead of wine and 1/2 tsp of white pepper. It was perfect!! Thanks for a yummy recipe!
For Ingredients And Complete Cooking Instructions Please Head On Over To Next Page Or Open button (>) and don't forget to SHARE with your Facebook friends
advertisement