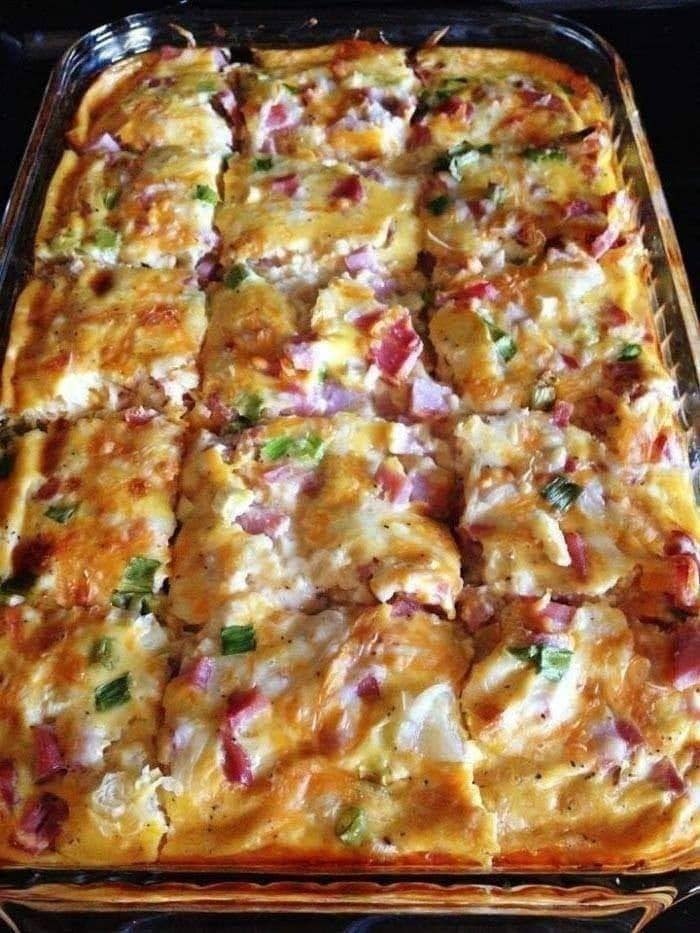 Reviews From Allrecipes.com
Absolutely Delicious! A great breakfast casserole to serve for overnight guests that will keep you with them and out of the kitchen! I took the advice of others and used Ore-Ida Potatoes O'Brien. I used one extra egg and 2% evaporated milk. I used cheddar cheese vs. pepper jack. For people who complained that this was not "spicy" enough, it's a breakfast casserole it's not supposed to be filled with a bunch of spices unless you want heartburn all day. This is a great recipe because of its versatility. You can substitute another breakfast meat for the ham or put some in addition, add veggies such as chopped fresh tomatoes or mushrooms. You could also change the pepper jack cheese to whatever cheese blend you prefer. It's up to you. I would suggest making the recipe once first then play around with it. It's definitely a keeper! I served it with fresh fruit, toast, and bagels.
I made this for brunch on Christmas morning. I doubled the recipe using a 9×13 baking dish. I also used O'Brien potatoes which I feel added a lot of flavor. The pepperjack cheese is a must–it really adds a nice zip to the casserole. It turned out perfectly and everyone loved it. It was also great the next day leftover. I will definately make again!
This was really good. My husband absolutely loved it! He almost ate the whole thing by himself. The only thing that I would do differently the next time I make it would be to substitute half of the Pepper Jack Cheese with Cheddar Cheese and maybe add more seasonings like garlic powder and oregano.
I cringe when I see the bread/milk/eggs brunch casserole recipes; so this was the ticket for me! Made it on Christmas morning and it was delicious. I used O'Brien potatoes (cubed frozen hash browns with peppers/onions), and it made it very flavorful and colorful. Thanks for sharing this recipe. P. S. This recipe should be added to the brunch category!
I also add in cooked sausage, also you can use hash brown patties instead, just crumble. *Here is my update on this: I double this recipe using a 9×13 pan, using 1 bag of hash browns, cooked crumbled breakfast sausage, 2 C cheddar/jack cheese. Let this sit over night bake off in the morning for about 1 hr.
Ingredients
3 cups frozen hash browns
3⁄4 cup shredded monterey jack pepper cheese
1 cup cubed cooked ham
1⁄4 cup green onion, well chopped
4 well beaten eggs
1 (12 ounce) can evaporated milk
1⁄4 teaspoon black pepper
1⁄2 teaspoon salt
Directions
Grease 2 quart rectangular baking dish.
Arrange potatoes evenly on bottom of baking dish.
Sprinkle with cheese, ham, onions.
Combine milk and eggs and seasonings.
Pour over potatoes and cheese.
Refrigerate over night.
Bake at 350 for 40-50 minutes until set.
Let rest 5 minute
For Ingredients And Complete Cooking Instructions Please Head On Over To Next Page Or Open button (>) and don't forget to SHARE with your Facebook friends
advertisement