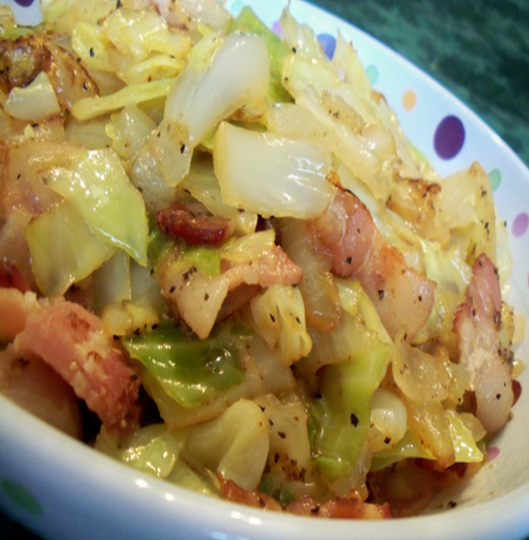 Reviews about the recipe:
"This was excellent. I did use less salt than specified but this recipe is definitely one I'll make again and again. Thanks for sharing it MrsMDSmith (and calling my attention to it on the exchange; it was perfect timing as I was looking for a side to go with dinner!) *(6/18/09 Update)* I wanted to stop by again to thank you MrsMDSmith. You not only gave me a delicious side dish but I used the leftovers to make a main dish that I will probably also do again and again. I chopped the leftovers and mixed in 1/2 lb. of seasoned browned ground pork, rolled in egg roll wrappers and fried to golden perfection. I love a recipe that can give me two distinct meals!"
"This was excellent. I served it with ham, potato salad and black-eyed peas on New Year's Day. I didn't use all of the onion called for, nor did I use onion powder (didn't have it). Like other reviewers, I cut the salt back (to 1tsp). Only a small dish left, and I intend to eat that as a snack later!"
INGREDIENTS :
6 slices bacon, chopped
1 large onion, diced
2 cloves garlic, minced
1 large head cabbage, cored and sliced
1 tablespoon salt, or to taste
1 teaspoon ground black pepper
1/2 teaspoon onion powder
1/2 teaspoon garlic powder
1/8 teaspoon paprika Add all ingredients to list
DIRECTIONS :
Place the bacon in a large stockpot and cook over medium-high heat until crispy, about 10 minutes. Add the onion and garlic; cook and stir until the onion caramelizes; about 10 minutes. Immediately stir in the cabbage and continue to cook and stir another 10 minutes. Season with salt, pepper, onion powder, garlic powder, and paprika. Reduce heat to low, cover, and simmer, stirring occasionally, about 30 minutes more.
For Ingredients And Complete Cooking Instructions Please Head On Over To Next Page Or Open button (>) and don't forget to SHARE with your Facebook friends