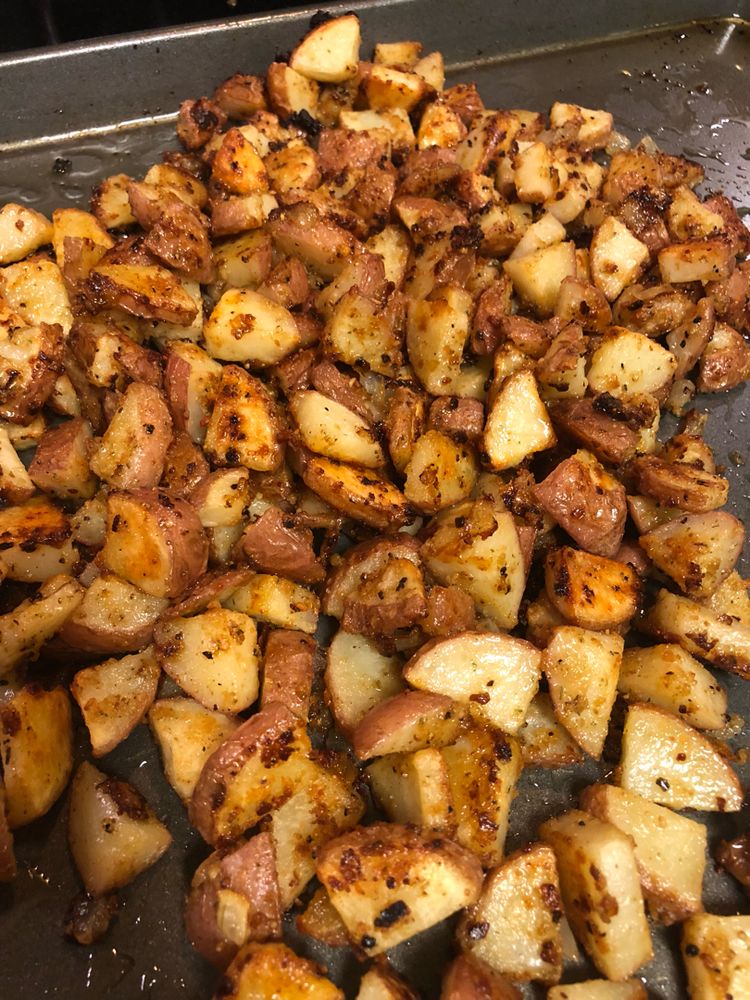 These are the BEST roasted red potatoes! Full of flavor from the garlic and herbs, and the Parmesan cheese forms a crust on the potatoes… Delicious!
One of the cornerstones of Sunday dinners at my grandma's house were her famous roasted potatoes. Famous to us, and anyone else who had the opportunity to taste them, of course. Everyone clamored for them, my uncle would hoard the bowl, and it would never fail that after my grandma pulled a baking sheet out of the oven full of potatoes, she would be sitting in the kitchen peeling another few pounds for a fresh batch.
Ingredients
3 pounds (1.36 kg) petite red potatoes, scrubbed and halved (quartered if extra large)
4 tablespoons olive oil
6 cloves garlic, minced
1½ teaspoons (1.5 teaspoons) kosher salt
1 teaspoon ground black pepper
1 teaspoon dried thyme
½ teaspoon (0.5 teaspoon) dried oregano
½ teaspoon (0.5 teaspoon) dried basil
⅓ cup (33.33 g) grated Parmesan cheese
2 tablespoons unsalted butter, cut into small cubes
2 tablespoons minced fresh parsley
Instructions
Preheat oven to 400 degrees F. Lightly grease a large baking sheet.
In a large bowl, toss the potatoes, olive oil, garlic, salt, pepper, thyme, oregano, basil and Parmesan cheese until evenly coated. Turn the mixture out onto the prepared baking sheet and arrange in a single layer.
Bake for 45 minutes to 1 hour, turning with a spatula two or three times, until golden brown and crisp. Pull the tray out and sprinkle the butter over the potatoes and stir to melt the butter. Remove from the oven and toss with the fresh parsley. Serve immediately.
For Ingredients And Complete Cooking Instructions Please Head On Over To Next Page Or Open button (>) and don't forget to SHARE with your Facebook friends