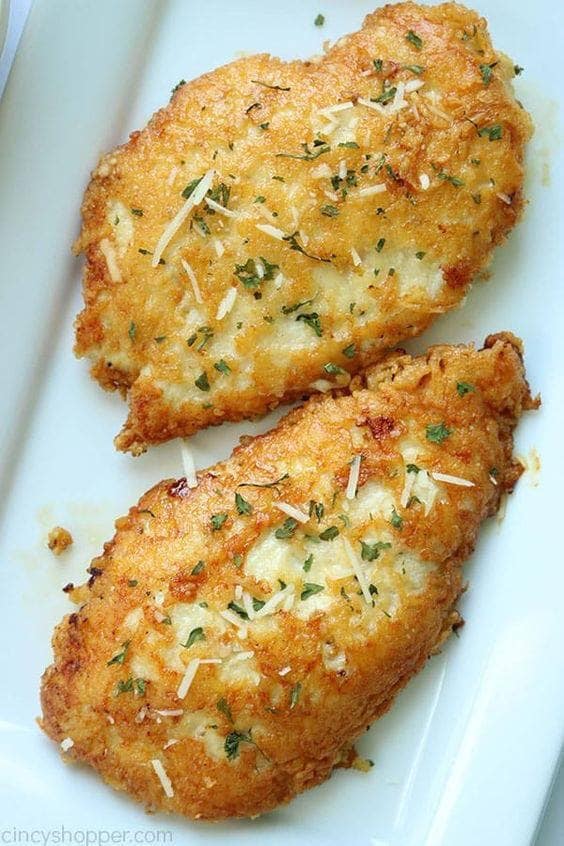 Crispy Parmesan Crusted Chicken Recipe! Chicken breast dredged in a seasoned egg mixture then coated generously in parmesan cheese and cooked until the crust is crispy and the chicken juicy and tender.
Coat the chicken- Take the chicken breast and coat in the edge mixture, allow any excess egg mixture to drip off. Then generously coat both sides of the chicken in the parmesan mixture.
Fry chicken- Heat oil and butter in a frying pan. Once hot, add the chicken. Cook 3-4 minutes over medium heat until the crust is crispy and browned. Flip the chicken and cook for another 3-4 minutes.
Alright, friends! This crispy parmesan crusted chicken is an absolute family favorite. The ingredients are simple and the recipe is so quick to make. The kids absolutely LOVE the recipe and say it's fancy chicken tenders. If kids love a recipe, it's a double win in my book.
For Ingredients And Complete Cooking Instructions Please Head On Over To Next Page Or Open button (>) and don't forget to SHARE with your Facebook friends
advertisement