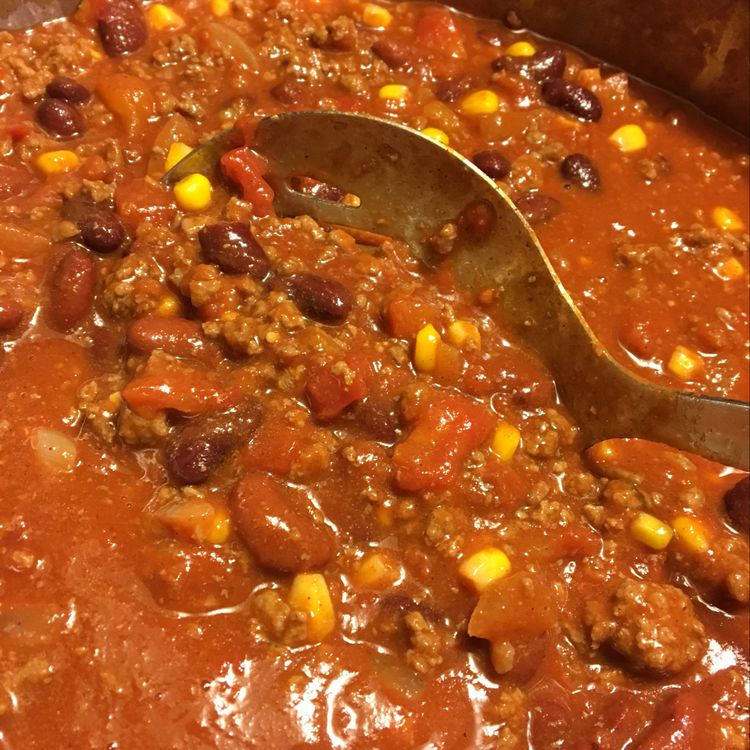 Quick and Easy Taco Soup Recipe is filled with ground beef, beans, corn and taco seasoning. It's a quick dinner that uses lots of pantry staples!
This quick and easy taco soup was one of the very first recipes I made as a married woman. I was actually given this recipe by a friend, who also brought the soup with it, and I immediately fell in love. (with the soup…)
One of the main reasons I love this recipe so much is that it uses canned beans, corn, tomatoes and tomato sauce. I always keep a hefty stock of canned beans and tomatoes in my pantry, so it's an easy dinner to whip up.
Quick and Easy Taco Soup Recipe
Simply brown some ground beef with a little onion, drain and add some taco seasoning and all the canned goods!
Ingredients
1 lb. ground beef
1 onion, chopped
15 oz kidney beans
15 oz black beans
15 oz corn kernels
15 oz diced tomatoes
8 oz tomato sauce
1 pouch, 2 tbsp taco seasoning (homemade recipe here)
Optional Taco Toppings:
shredded cheddar cheese
sour cream
diced tomatoes
avocado
corn chips
lime wedges
cilantro
Instructions
Brown the ground beef and onion in a large pot, until cooked through and crumbled. Drain any excess fat.
Add the remaining ingredients to the pot and stir to combine. Cook over medium heat, letting simmer for about 10 minutes to let flavors blend.
Serve with optional taco toppings. Enjoy!
Notes
*You can substitute ground beef with ground turkey or chicken if desired. Do not drain the canned items, just pour them all in.
For Ingredients And Complete Cooking Instructions Please Head On Over To Next Page Or Open button (>) and don't forget to SHARE with your Facebook friends