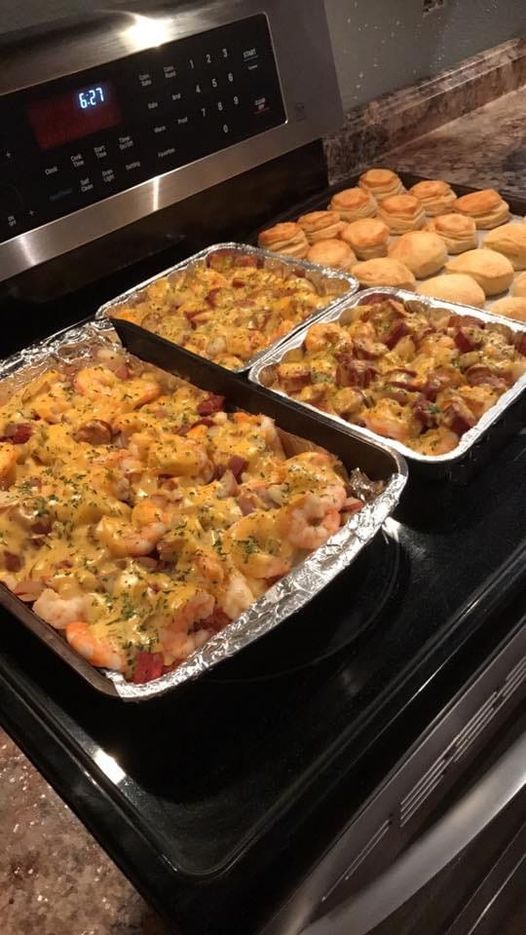 Ingredients :
3 lb peeled shrimp
3 lb smoked sausage (I used HOT)
3 lb small red potatoes
1 large Vidalia onion
½-3/4 cup of Louisiana Crawfish boil (this portion will be a preference option)
parsley
(crab meat and crawfish optional)
Seafood sauce:
2 cans of cream of celery
4-6 oz of Velveeta cheese, cut into small little cubes (also this portion is going to be a preference option)
3/4 cup of milk
Instructions :
First preheat oven to 400 degrees.
Slice your sausages into round bite size pieces.
Then cut your potatoes into small bite size pieces also. Slice onions into quarters and then smaller portions after that until you can pull them into strips. Fry down sausage on a medium to low heat just till browned.. let drain.
Fill a pot with 3 cups of water pour in Louisiana Crawfish boil (your preference on how much, the more the spicier).
Once you get a boil going place in potatoes and onions. Boil until potatoes are soft (not mushy) place shrimp in pot and turn off burner..stir to keep shrimp under and cooking..shrimp usually cook within 2.5 mins depending on size, keep in mind the longer you let your shrimp, potatoes, and onion sit in the boil the spicier it will be.
if you are adding crab I suggest you keep it separate and heat it in a small skillet with a dash of Old Bay then place it on the bottom of the pan before placing the cooked sausage in the pan.
Take a large pan and line with aluminuim foil, place sausage in pan. Take pot of shrimp, potatoes and onions and pour into strainer. Once strained Take the shrimp, potatoes and onions and place in pan.
MAKING THE SAUCE: On medium-low heat pour the two cans of cream of celery into a pot (I use the same pot I just boiled everything in) add in the Velveeta cubes (once again the amount will depend on your preference) I use the full 6 oz because my family likes the cheese taste and gives it a good color. Now slowly add in ¾ cup of milk while cooking the sauce down (take your time you don't want to rush your sauce). Keep it a thicker consistency, try not to let it get runny.
Once the cheese is melted in take off heat and let sit for 2 minutes.
After 2 minutes, spoon the sauce over the pan of seafood and bake in oven at 400 degrees for 15 minutes.
Garnish with parsley..Serve hot and with fresh garlic or butter rolls!
Enjoy!
For Ingredients And Complete Cooking Instructions Please Head On Over To Next Page Or Open button (>) and don't forget to SHARE with your Facebook friends
advertisement