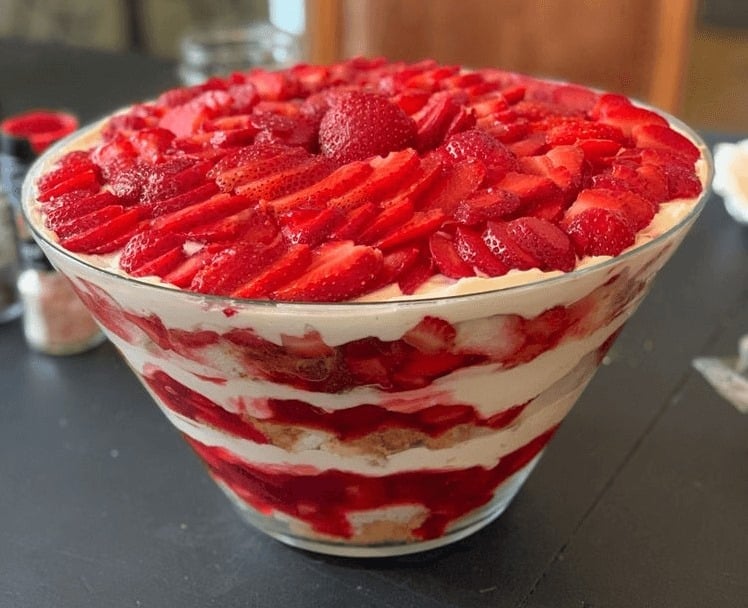 This Strawberry Cheesecake Trifle is one of those make-in-advance crowd pleasing desserts. It's filled with sweet strawberries, cubed cake and a homemade vanilla cheesecake mousse. I literally make this year-round when I can get my hands on sweet strawberries. It's a given it will show-up during the glorious strawberry picking season, but the colors make it perfection at Christmas, too.
To assemble this confection, I recommend starting with cubed cake, then strawberries then vanilla cheesecake mousse in that order. Depending on the size and depth of the trifle bowl used, the layers could come together differently, so consider the size of the bowl you're using when separating the ingredients into layers. This strawberry cheesecake trifle is a fun dessert to make and serve and there's never ever a spoonful leftover.
Strawberry Cheesecake Trifle
INGREDIENTS:
8 oz Cream Cheese
16 oz Heavy Cream
14 oz Sweetened Condensed Milk
3 tbsp melted Butter
1 box Vanilla Wafers
2 cup sliced Strawberries
DIRECTIONS:
In food processor, crush about 2/3 box of vanilla wafers.
Add melted butter and mix well. Set aside.
Beat cream cheese and sweetened condensed milk until blended.
In another bowl, whip heavy cream until stiff peaks form.
Fold whipped cream into cream cheese mixture until blended.
Load serving cups with alternating layers of crushed wafers, cream cheese mixture and strawberries.
Refrigerate until ready to serve.
For Ingredients And Complete Cooking Instructions Please Head On Over To Next Page Or Open button (>) and don't forget to SHARE with your Facebook friends
advertisement