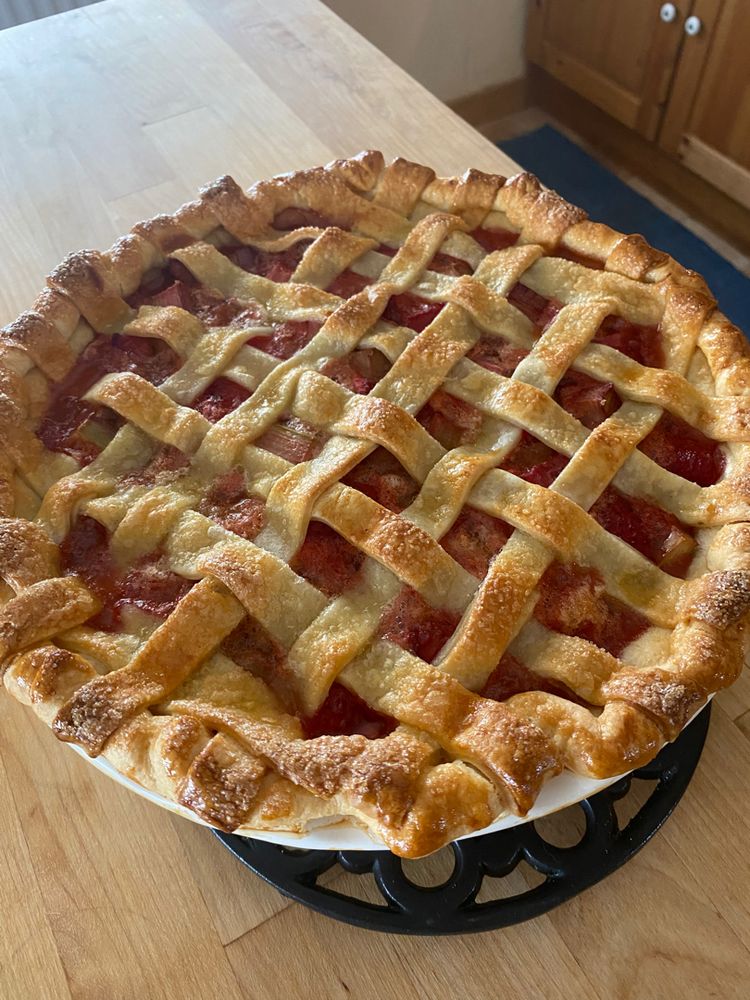 This Strawberry Rhubarb Pie is the perfect combo of strawberries and rhubarb all baked together in a homemade buttery, flaky pie crust. When you take a bite, all these wonderful flavors and juices join together for the PERFECT level of sweetness! In other words, this strawberry rhubarb pie is absolute heaven. You can serve it cold – or – warm it up and go à la mode style with a big ol' scoop of vanilla ice cream on top. You'll be hooked after the first bite! Enjoy!
Make the homemade pie crust. The first part of making this strawberry rhubarb pie recipe is the homemade pie crust! The key to a successful pie crust is making sure your butter, vegetable shortening, and water are all VERY COLD!
INGREDIENTS
HOMEMADE FLAKY PIE CRUST (MAKES 2, 9″ PIE CRUSTS)
2 cups All-Purpose Flour
1 teaspoon Salt
6 tablespoon Unsalted Butter, cold and cut into small cubes
½ cup Vegetable Shortening, cold and cut into cubes
4-6 tablespoon Ice Cold Water
STRAWBERRY RHUBARB PIE FILLING
3 cups Rhubarb, sliced in half and cut into small pieces
3 cups Strawberries, hulled and sliced into small pieces
½ cup Light Brown Sugar, lightly packed
½ cup Granulated Sugar
¼ cup Cornstarch
2 teaspoon Vanilla Extract
1 tablespoon Lemon Juice
3 tablespoon Unsalted Butter, cut into small cubes
1 Large Egg White, to be brushed onto the pie crust for shine
INSTRUCTIONS
HOMEMADE FLAKY PIE CRUST (MAKES 2, 9″ PIE CRUSTS OR 1 DOUBLE PIE CRUST)
In a large mixing bowl and using a pastry blender (or two forks), mix together the flour, salt, cold cubed butter, and cold vegetable shortening until you have small pea-size pieces. Some larger pea-size pieces are fine too! You can use a knife to clear out the pastry blender if it gets clogged as you mix everything together.
Add in the ice cold water 1 tablespoon (tbsp) at a time, using a spatula or your hands until can form a ball and it is no longer crumbly. If there are any crumbly bits, just add the tiniest bit of water so they blend in with the rest of the dough.
After forming the ball of pie dough, place it on a lightly-floured, clean surface and divide it in half using a pastry cutter. Pat each half into a 1″-1 ½" thick disc, then double wrap tightly in plastic wrap and place them in the coldest part of your refrigerator (usually the back) for a minimum of 1 hour.
STRAWBERRY RHUBARB PIE FILLING
Adjust the oven rack to the 2nd level position (just above center) and preheat the oven to 425ºF.
On a well-floured, clean surface, roll out one of the discs of pie dough you made earlier (or unroll if using store-bought) and carefully place into a 9″ pie plate. Trim the edges to your liking, then place it back in the refrigerator as you make the strawberry rhubarb pie filling.
In a large bowl, mix together the rhubarb, strawberries, light brown sugar, granulated sugar, corn starch, vanilla extract, lemon juice, and cubed pieces of butter together. The mixture will start to become a little juicy—that's okay!
Take out the pie plate out from the refrigerator and carefully add in the strawberry rhubarb pie filling using a slotted spoon to drain some of the excess juices. Spread it around to make sure you get a somewhat level surface. Set the pie to the side as you roll out your 2nd disc of refrigerated pie dough out onto a well-floured, clean surface.
For the top pie crust you can be as creative as you'd like to be! The easiest option is to simply place the top layer over the pie, trim the edges or fold the bottom layer over the top layer. Press them together, crimp the edges using a fork or your fingers, then cut a few slits across the top of the pie.
Another option: After rolling the top layer of pie dough out, you can create a cut-out pattern using a cookie cutter (see my Homemade Cherry Pie recipe). You can also, as a more detailed option, create a lattice top with overlapping rows of the pie dough.
After adding the top layer of pie dough, lightly brush the egg white over top of the pie. You won't need to use all of this on the pie—just a little coverage will be good.
Place the pie in the jelly roll pan or cookie sheet, then place it in the oven and bake for 15 minutes at 425ºF.
After 15 minutes, decrease the oven temperature to 375ºF and bake for an additional 50-60 minutes. At this time, it would be a good idea to add a pie crust shield to avoid burning your pie crust edges. You can use something like the one I just bought or you can simply use pieces of aluminum foil to place around the edges.
Once done, remove from oven and allow to cool completely.
For Ingredients And Complete Cooking Instructions Please Head On Over To Next Page Or Open button (>) and don't forget to SHARE with your Facebook friends
advertisement