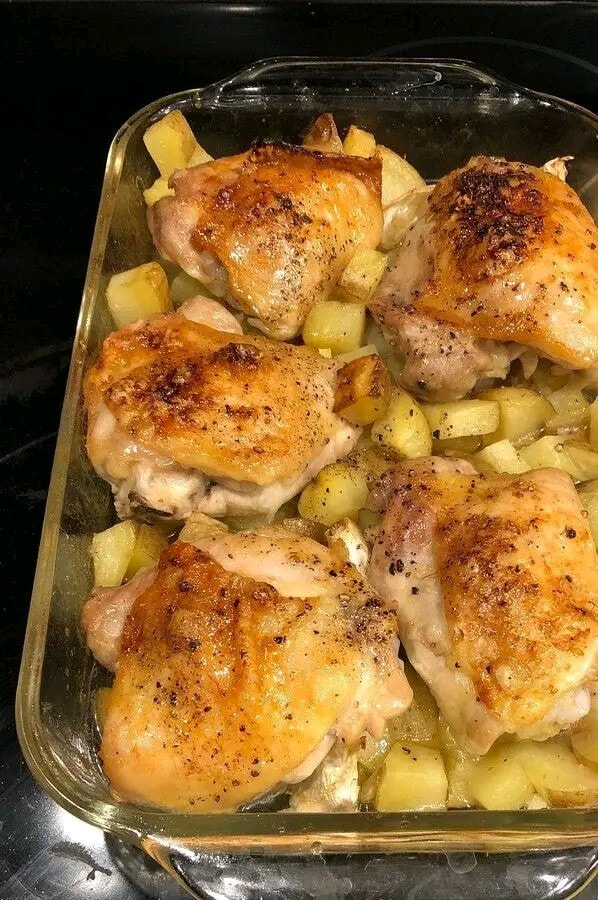 Try our baked chicken with garlic recipe. they are deliciously seasoned before being cooked in the oven until tender!
Ingredients
6 chicken thighs
1 pound Dutch potatoes
3-4 cups of chopped spinach
4 tsp unsalted butter
1 tbsp of Italian seasoning
salt and black pepper to taste
parsley
1 cup chicken broth
1/2 cup parmesan cheese
(1/2 stick unsalted butter
1/4 cup all-purpose flour
4 minced garlic cloves
1 tsp dried thyme
1 tsp dried basil
1 tsp dried basil
Directions
Step 1
Preheat oven to 400°F(or according to your oven) and lightly grease a 9″ x 13″ baking dish with butter or nonstick spray. Melt 2 tablespoons of the butter in a large skillet over medium-high heat and sauté the spinach until wilted. Remove from heat To prepare the sauce: Reduce the heat to medium and add the butter to the skillet. Add the minced garlic and cook for 1-2 minutes, stirring frequently so that it does not burn. Whisk in the flour and cook 1 minute, or until the roux is thick and golden brown, then slowly whisk in the chicken broth until combined.
Step 2
Add the Parmesan, half-and-half, and cook for another 3-5 minutes, or until it thickens, then add the thyme, basil, and oregano. Season with salt and pepper. Season chicken thighs with salt, pepper and Italian seasoning and place in a baking dish.Place chicken thighs side by side in the greased baking dish, then top with sautéed spinach and halved potatoes. Top with the cream sauce, then place in the oven and bake for 20-25 minutes, or until the chicken is cooked through. Remove from the oven and serve hot.
Enjoy!!!
For Ingredients And Complete Cooking Instructions Please Head On Over To Next Page Or Open button (>) and don't forget to SHARE with your Facebook friends
advertisement