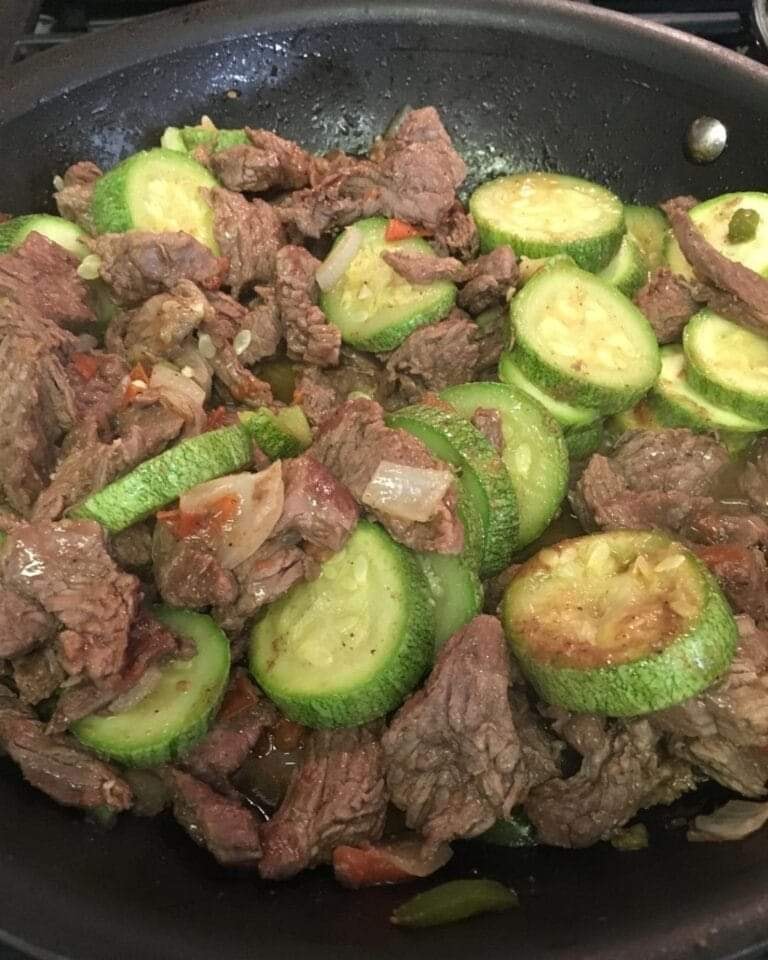 Ingredients :
1 1/2 pounds boneless pork sirloin steaks with a bone cut into 1-inch pieces
3/4 teaspoon salt more to taste
3/4 teaspoon cumin
3/4 teaspoon fresh cracked pepper
1 cup of water
2 tablespoons avocado or grapeseed oil or traditional pork lard!
2 cloves garlic sliced
1 cup white onion diced
1/2 cup red bell pepper sliced into 1/2 inch pieces
1/2 green bell pepper sliced into 1/2 inch pieces
3 large Roma or vine ripe tomatoes roughly chopped
1 tsp tomato/chicken bouillon(if using) knorr brand
1/2 tsp Mexican oregano
1 cup corn fresh or frozen
1 medium zucchini sliced into rings or half-moon shapes
1 tbsp cilantro chopped
Directions :
Preheat a large skillet to medium/high heat for a few minutes. Add the pork and season with salt, pepper, and cumin.
Add 1/2 cup water, reserving the other half for blending tomatoes. Spread out evenly, cover, and cook until all the water has evaporated.
Once the water has evaporated, uncover, add the oil, and brown the pork a little more with the lid off for a few minutes.
READ ALSO: Caldo de pollo con arroz – Chicken soup with rice
Add the peppers, garlic, and onions and cook for 3 to 4 minutes.
Blend the tomatoes with the oregano and bouillon(if using), adding a little bit of water (1/2 cup) to help it blend easier, set aside.
Add the corn and cook just for 2 minutes, add the tomato mixture, stir well to combine.
Mix in the zucchini in the cilantro. Cook at a low/medium temperature for another 10-15 minutes. Taste for salt.
READ ALSO: LIVER AND ONIONS
Serve with your favorite rice, beans, salsa, and warm tortillas.
enjoy !!
For Ingredients And Complete Cooking Instructions Please Head On Over To Next Page Or Open button (>) and don't forget to SHARE with your Facebook friends