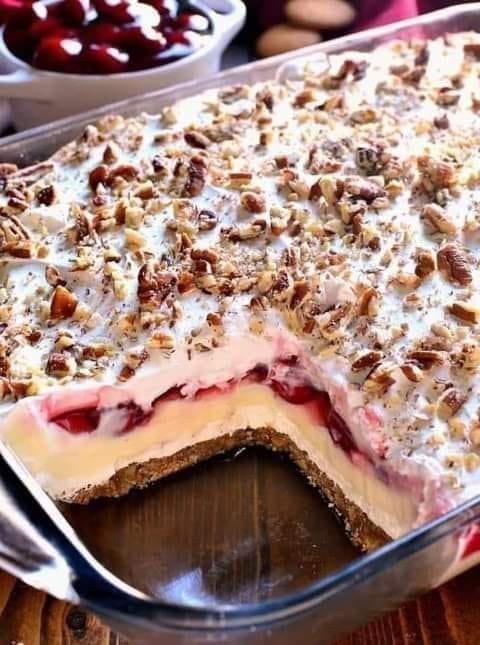 No-Bake Cherry Yum Yum is a layered dessert of sweetened graham cracker crumbs, cream cheese, cherry pie filling and fresh whipped cream!
NO-BAKE CHERRY YUM YUM
I made a NO BAKE APPLE YUM YUM a while back and we all loved it. But my favorite flavor is always cherry so I just had to make a cherry version. It couldn't be simpler. Whether you don't feel like baking or it's too hot to turn on the oven – this is a perfect dessert!
CAN I SUBSTITUTE THE HOMEMADE WHIPPED CREAM FOR COOL WHIP?
Absolutely! Whatever works best for you! You can substitute the heavy whipping cream, 3 tbsp. sugar and 1/2 tsp. vanilla extract with one (8 oz.) tub of COOL WHIP, thawed.
You can also switch out the pie filling flavors. Apple, strawberry, peach and blueberry pie filling all work in this dessert!
For Ingredients And Complete Cooking Instructions Please Head On Over To Next Page Or Open button (>) and don't forget to SHARE with your Facebook friends
advertisement