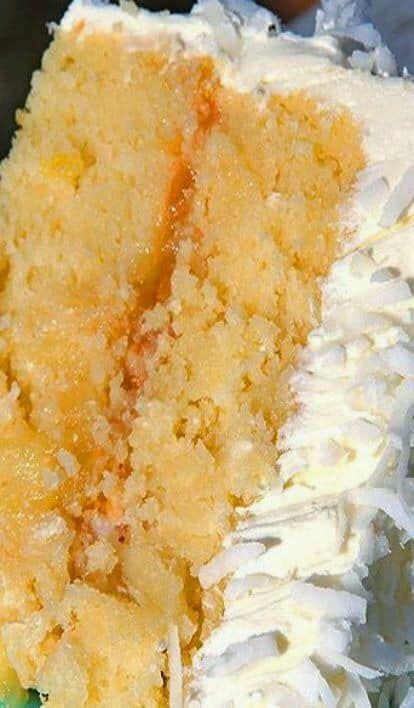 This Pineapple Coconut Cake recipe is a real show stopper. Made with moist coconut cake, pineapple curd filling, and luscious coconut buttercream frosting, this cake will be the talk of your summer parties.
I never really liked coconut cake as a kid. Or coconut for that matter. But, as an adult, I adore all things coconut. Funny how our tastes change over the years.
Today's coconut cake has a pineapple curd filling and it's like a taste of the tropics.
The best thing is the coconut flavor doesn't taste artificial. I hate biting into a coconut baked good and it tastes like a tanning booth. You know what I'm talking about.
While there is a touch of coconut extract in both the cake and the frosting, it's not so much that it overpowers the cake. Most of the coconut flavor comes from the coconut cream.
Why this pineapple coconut cake recipe works
The cake is light and spongy! It's so soft and isn't overloaded with shredded coconut.
Coconut cream is used for a silky texture and luscious flavor. It's in both the cake and the frosting.
The recipe makes a 3 layer 8-inch cake. I have not tested the bake time for 2 9-inch layers. You'll have to be the judge of that if you wish to make it that way.
The frosting is my very popular coconut buttercream and I've used coconut cream along with coconut extract for flavor.
For Ingredients And Complete Cooking Instructions Please Head On Over To Next Page Or Open button (>) and don't forget to SHARE with your Facebook friends
advertisement