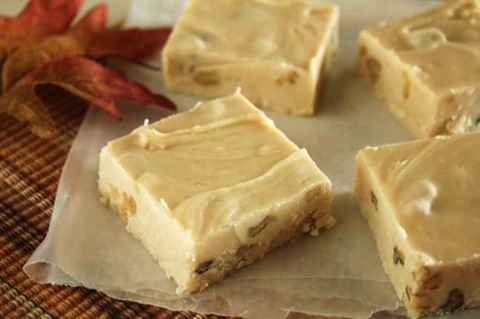 Super rich and ever-so-creamy, this Old Fashioned Maple & Walnut Fudge is made with real Maple Syrup, cream, butter and walnuts.
Did you know that March is prime maple harvesting season?
Since Canada produces about 75% of the world's maple, you could say that it is the true flavour of the north.
Indeed, the taste of maple is loved from coast to coast to coast. I am excited to share with you a maple-based recipe to celebrate the natural goodness of Maple Syrup – Old Fashioned Maple & Walnut Fudge.
When I was a kid my parents would sometimes head to Niagara on the Lake for a weekend and come back with the most amazing fudge.
In fact, I am almost certain that the fudge at Niagara on the Lake is pretty much the best you can get.
For Ingredients And Complete Cooking Instructions Please Head On Over To Next Page Or Open button (>) and don't forget to SHARE with your Facebook friends