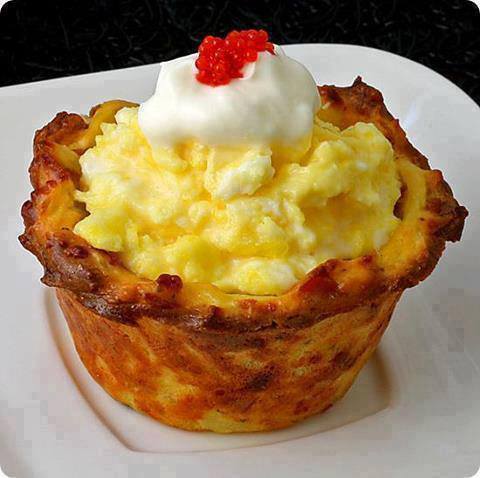 1 (20 oz) package pre-shredded hash brown-style potatoes (NOT the frozen kind!!)
2 large eggs, lightly beaten
4 tablespoons flour
1 small sweet onion, coarsely grated
2 thick slices deli ham, chopped into small bits (about 1 cup)
1 cup shredded mozzarella cheese
1/2 cup grated Parmesan cheese
Salt and freshly ground black pepper to taste
1 dozen eggs, scrambled
Chopped Chives (optional)
Sour Cream for Garnish
Caviar for Garnish
Preheat the oven to 400 degrees and lightly spray a 12-cup muffin tin with non-stick cooking spray. Empty shredded potatoes into a large bowl and set aside.
In a small bowl, lightly beat 2 eggs. Pour eggs over the potatoes, then sprinkle with flour. Peel a small onion, either a yellow or white. Using the large holes of a box grater, grate the onion. Add onion to the potato mixture.
Stack slices of ham together and slice into small pieces. Add chopped ham into the potato mixture. Add cheeses and stir everything together. Season with salt and pepper.
Spoon potato mixture into each prepared muffin cup until about 1/3 full. Gently press the potato mixture down in the middle and up the sides of each cup. Bake until golden brown, about 25-30 minutes. If the nests have puffed up too much in the center, scoop out a little with a teaspoon.
While the potato cups are baking, scramble remaining dozen eggs. If desired, add a little chopped chives to the eggs.
Spoon a few tablespoons of scramble eggs into each nest. Top with a dollop of sour cream and a little red caviar for a festive "cherry on top" look.
Serve with fresh orange juice and buttered toast points for a complete breakfast.
For Ingredients And Complete Cooking Instructions Please Head On Over To Next Page Or Open button (>) and don't forget to SHARE with your Facebook friends
advertisement