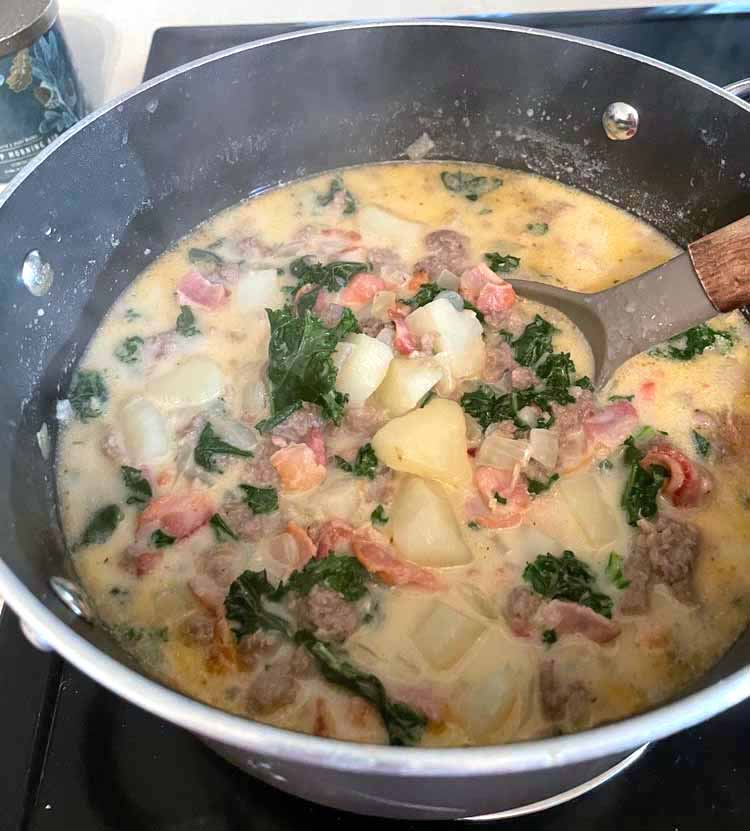 This is a very easy crockpot soup that will make everyone at the dinner table happy when it's suppertime 🥰 🥰 🥰 Best of all, this comfort food is the perfect way to warm up this winter !!
Mike actually turned up his nose when I told him I was going to whip up this Creamy Potato & Hamburger Soup. He seriously thinks he doesn't like hamburger in soups. Every time I talk about putting ground beef in a soup, he tells me he doesn't like it. And then every single time I make a soup with ground beef in it, he loves it.
Seriously. The guy has this mental block about it. Hamburger soup is awesome, right?
INGREDIENTS NEEDED :
– Lean ground beef: 1 1/2 pounds
– White onion: 1 medium (peeled & diced)
– Garlic: 1 large clove (minced)
– Chicken broth: 6 cups
– Russet potatoes: 6 cups (peeled & diced)
– Frozen vegetable mix of your choice: 2 cups
– Basil: 3 teaspoons (dried)
– Parsley flakes: 2 teaspoons (dried)
– Milk: 1 1/2 cups
– Cornstarch: 2 tablespoons
– Velveeta cheese: 8 ounces (cubed)
STEPS TO MAKE IT :
STEP 1 :
I always start by frying the ground beef mixture up until cooked. After that, I place into a crock pot or slow cooker.
STEP 2 :
Next, you'll want to add in all the vegetables and spices ( NOT the milk products!) and cook for several hours in the slow cooker. And please break down the ground beef into softer meat and the potatoes into smooth velvety goodness.
For Ingredients And Complete Cooking Instructions Please Head On Over To Next Page Or Open button (>) and don't forget to SHARE with your Facebook friends