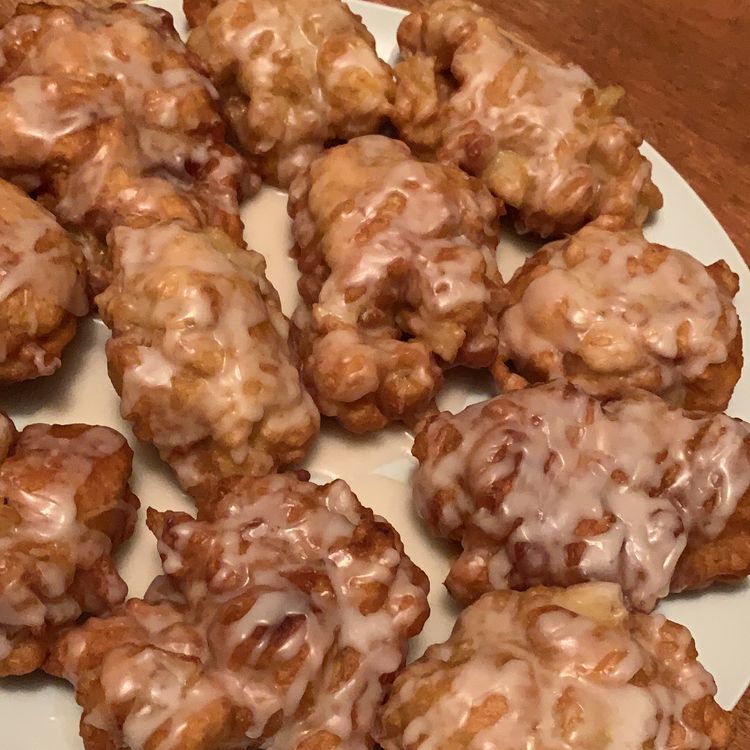 The weather here in Pennsylvania is having an identity crisis. This February was wild! Cold a few days (we even finally had some snow), warm quite a few days and almost hot on one or two days, it was so "off". If you ask me…I want it cold (like its supposed to be) and I want snow…a few times…at least 2 footers each time!
TO ME, COMFORT FOODS ARE LIKE A WARM SNUGGLY BLANKET, A NEW PAIR OF SLIPPERS OR A GREAT BIG BEAR HUG FROM SOMEONE YOU LOVE. THESE EASY APPLE FRITTERS ARE HIGH UP ON THAT LIST!
Just a few pantry staples and a handful of apples are all you need to earn yourself warm, fragrant, decadent Apple Fritters. These are worth every calorie, you can easily justify eating a few because of the apples…right, after all "an apple a day" (at least that's what I tell myself, haha).
"My mom made these for us after school in the fall with the apples we'd pick and buy from a fruit farm. Warm, crisp, and sweet, a perfect fall treat."
Yummy! I replaced the white flour with Whole wheat pastry flour,Milk for skim milk,Splenda for the sugar & used egg beater's in place of the egg's.replaced applesauce(homade-no sugar with cinnamon) for the oil in the batter,Added 1 Tsp cinnamon to the batter.I grated 2 large honey crisp apple's (skins on) into the batter.Put the cinnamon/splenda mixture in a brown bag, placed the fritters in the bag & shook to coat.I also used my small cookie dough scoop to put them into the hot oil.Worked perfectly!They poofed out very well.A very nice size to handle for adult's & kid's.Very quick and super easy!Slightly crisp on the outside,moist,tender and fluffy on the inside.Great morning treat while we went on our Autumn walk!Great with Coffee!My kid's loved them.No leftover's,Alway a bonus! I will be making these again! I am thinking of trying pumpkin next time!YUM!!Thanks for a great recipe 🙂