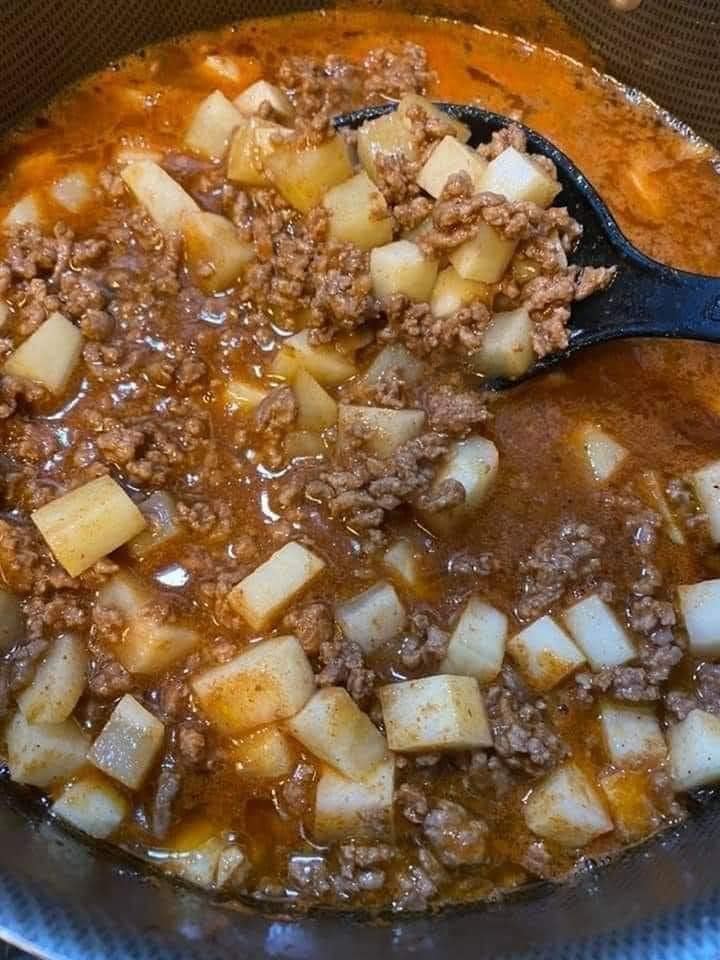 This is a fairly easy recipe and is good to eat, too. Around here you can even buy it in a burrito from many of the local quick-stop burrito places. Because this was only for a lunch meal and just for two people, I did not make a lot, so bear mind you may have to double the recipe.
Begin by add mixed spice, clove of garlic, and enough water to get spices wet in your molcajete and grinding it down, until it looks something like this:
Ingredients:
• 1 medium Russet potato or 2 white potatoes peeled and diced
• 1 pound ground chuck
• 1 teaspoon salt more to taste
• 1 teaspoon garlic powder
• 1 teaspoon cumin
• 1/2 teaspoon pepper
• 1 clove garlic minced
• 1 small white onion diced
• 2 large Roma tomatoes roughly chopped
• 1 to 2 serrano chiles roughly chopped
• 1/4 cup water pinch of salt and Mexican oregano
Directions :
1. Preheat 1/8 to 1/4 cup of olive oil in a nonstick pan to medium heat for a few minutes. Add the diced potatoes and cook until browned and crispy in most spots. I like to cover my potatoes while they cook. The steam created helps them cook a little faster from the inside. Transfer potatoes to a plate lined with paper towels to drain, set aside.
2. Add the ground beef to that same skillet and heat to medium/high. Season beef with 1 teaspoon salt, 1 teaspoon garlic powder, 1 teaspoon cumin and 1/2 teaspoon pepper. Cook for 8 to 10 minutes until nicely browned.
3. Add the garlic and onion, continue cooking for 2 to 3 minutes. Add tomatoes, serranos, 1/4 cup water, salt and oregano to the blender and blend until smooth. Pour tomato mixture into picadillo. Let it come to a boil and taste for salt. Fold in the potatoes and stir until well combined. Taste for seasonings and continue cooking at a low simmer until sauce thickens and reduces, 7-10 minutes . Remove from heat.
Enjoy !!
For Ingredients And Complete Cooking Instructions Please Head On Over To Next Page Or Open button (>) and don't forget to SHARE with your Facebook friends
advertisement