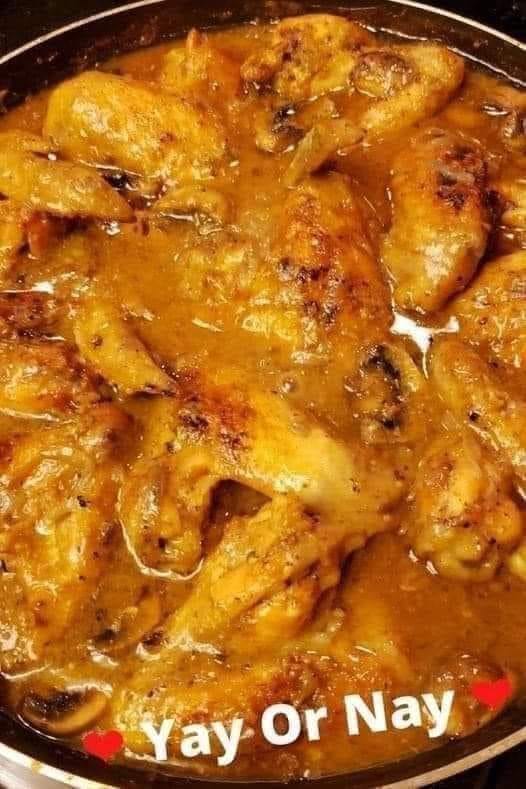 I don't know about you, but I could eat chicken, gravy, and mashed potatoes any day of the week. That's the beauty of this Smothered Chicken Recipe. You can prepare the chicken and gravy in a single skillet while you boil up some creamy mashed potatoes next to it. This is definitely a comfort food recipe that your family will love.
BONUS: You can use chicken thighs or pork chops in this recipe instead of chicken breasts. Check out the process shots below to see how this comes together, along with my PRO tips for success!
Ingredients
2lbs Chicken wings
2 T Butter
2 T Wheat Flour
6 C Chicken broth
1 tsp Bouillon cube
2 tsp Salt, Pepper, Garlic and Onion Powder, Celery Salt
1 T Canola oil
Optional (1/2 C Mushrooms, Chopped Celery, and onions)
Instructions
1. Season chicken with 1 tsp of seasonings. Toss to coat.
2. In a large skillet over medium-high heat add oil. Brown chicken on all sides for about 6-8 mins. Set aside.
3. In the same skillet, deglaze the pan by scraping bits from the bottom. Add butter and flour to make the roux. Whisk until caramel-colored about 4-6 mins. (If using celery and onions, add them here and cook for 1 additional minute)
Advertisement
4. Add broth and remaining seasonings. Whisk once more until gravy is slightly thickened. Add 1/3 C water to thin if gravy is too thick.
5. Add chicken back to the pan, lower heat to medium-low. Cover and let simmer for 30-45 minutes or until chicken is fully cooked through.
Enjoy !
For Ingredients And Complete Cooking Instructions Please Head On Over To Next Page Or Open button (>) and don't forget to SHARE with your Facebook friends
advertisement