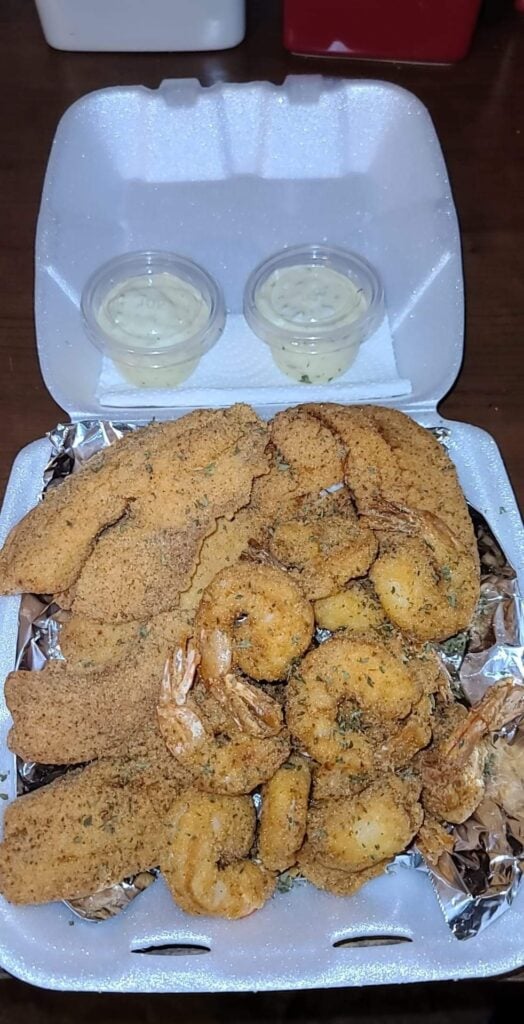 INGREDIENTS
2 lbs Fish Fillets (Cod, Halibut or other flaky white fish)
1/4 cup Tabasco Sauce
1/3 cup Yellow Cornmeal
1/4 cup Wondra flour
2 teaspoons Cornstarch
1 tablespoon Creole Seasoning
1 teaspoon Garlic Powder
1/2 teaspoon Cayenne Pepper
Freshly ground black pepper, to taste
Sliced lemons, for serving
DIRECTIONS
Fill a heavy Dutch oven or deep cast iron skillet with a few inches of oil and heat on medium-high until the oil reaches 365 to 375 degrees.
Meanwhile, line a baking sheet with paper towels or a brown paper bag to soak up the excess grease once the fish has been fried.
If the fillets are large, slice them in half lengthwise, then in half crosswise into fish "fingers."
Add hot sauce to a shallow pan and set aside.
In another shallow pan, whisk the cornmeal, flour, cornstarch, creole seasoning, garlic powder, cayenne, and black pepper until combined.
Dip each fish fillet in a thin layer of hot sauce, turning to coat, and then transfer to the cornmeal mixture, making sure to cover the fish generously on all sides.
Working in batches, fry the fish until crisp and golden brown, about 3 to 6 minutes depending on the size. (Do not overcrowd the pan or the oil could boil over.) Remove the fish with a spider or skimmer to the prepared sheet pan to drain. Allow oil to come back up to temperature before continuing with remaining fillets.
The fish is best served straight from the fryer, but it can be kept, uncovered, in an oven warmed to 300 degrees while the remaining fish is fried. If possible, place fried fish on a baking rack over a rimmed baking sheet. This will allow air to circulate around the fish to help keep it crisp. Serve the fried fish with lots of lemon. Great with French Fries and a good coleslaw.
For Ingredients And Complete Cooking Instructions Please Head On Over To Next Page Or Open button (>) and don't forget to SHARE with your Facebook friends
advertisement