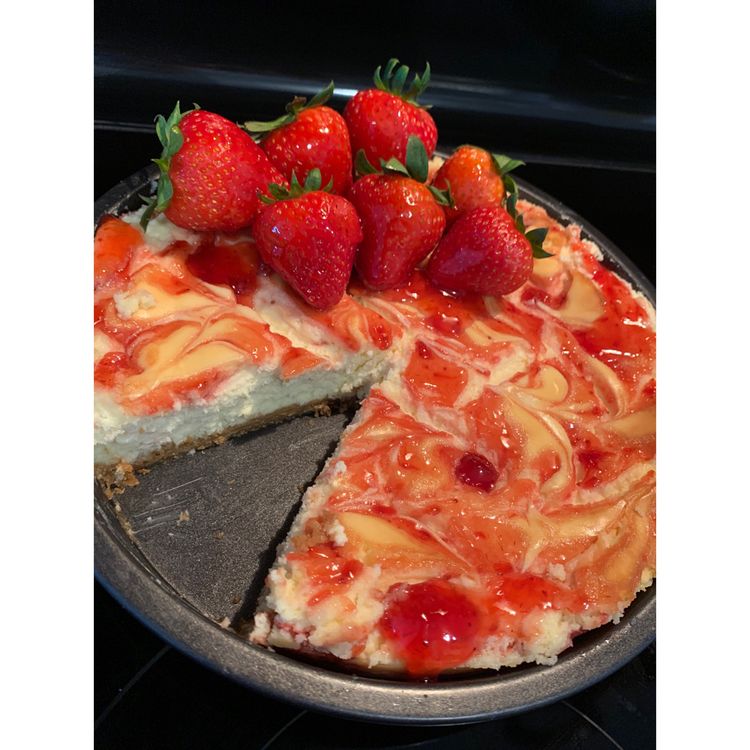 My Strawberry Swirl Cheesecake recipe is the creamiest most delicious cheesecake you will ever have! Made with simple homemade strawberry sauce, this is a smooth and creamy baked cheesecake recipe you will love and make over and over again. No water bath is required to make this cheesecake, and it is out of the oven in 1 hour.
I love Junior's NYC cheesecake recipes; my favorite has always been the strawberry swirl cheesecake! It is the best cheesecake recipe, but costs around $70. Who wants to spend that kind of money when you can make it for so much less, and it's just as delicious homemade?
INGREDIENTS
¾ cup Graham crackers crushed, or up to 1 cup
¼ teaspoon cinnamon
¼ teaspoon ground ginger
3½ oz unsalted butter (melted)
3 packages cream cheese (softened; 8 oz. packages)
¾ cup superfine sugar
1½ teaspoons vanilla extract
2 large eggs room temp
1 egg yolk room temp
1 cup light sour cream room temp (a little less than one cup)
½ lemon juice and zest
Pinch of salt
⅔ cup strawberry sauce
INSTRUCTIONS
Creating the graham cracker crust
Preheat the oven to 160°C / 325°F / 140°C fan forced. Grease and line the base and sides of an 8-inch round springform tin with baking paper.
Crush graham crackers in a food processor until they are a fine crumb. If you don't have a food processor or blender, put them in a bag and crush them with a rolling pin.
Graham crackers crushed in a glass bowl
Add the cinnamon and ginger and combine.
Graham crackers crushed in a glass bowl with cinnamon and ginger
Mix through the melted butter.
Butter added to cheesecake crumbs
Press firmly into the bottom of the prepared tin.
Pressing cheesecake crust into a pan
Bake for 10 minutes then set aside while you make the filling.
Baked cheesecake crust in a pan
Creating the cheesecake filling
Using a stand mixer with the paddle attachment or an electric hand mixer, beat the cream cheese on low-med speed for about 2 minutes until smooth and creamy. Scrape down the sides of the bowl as required.
Beating cream cheese until smooth
Add the sugar and vanilla and beat well. Again, scrape down the sides as necessary.
Sugar added to cream cheese in a glass bowl
Mix in the eggs and beat through.
Adding eggs to the cheesecake mixture
Then, add the extra yolk and beat until fully incorporated.
Yolk added to cheesecake mixture
Add the sour cream, salt, lemon juice, and zest, and beat well. The mixture should now be completely smooth and glossy.
Adding sour cream to cheesecake mixture
Pour half of the cheesecake mixture over the base.
Cheesecake mixture poured over graham cracker base
Putting the strawberry swirl cheesecake together
With a teaspoon, dollop about half the strawberry sauce in small blobs over the top of the cheesecake mixture you just added to the base.
Dollops of sauce added to cheesecake in crust
Carefully spoon over the remaining cheesecake mixture.
Pouring cheesecake mixture into a cake pan
Smooth out the top just a little, then again use a teaspoon to dollop over the remaining strawberry sauce.
Dollops of strawberry sauce over cheesecake mixture after pouring over more cheesecake
Drag a knife through the little strawberry patches to give it a swirl effect.
strawberry swirl cheesecake in the springform pan before baking
Bake for 45-50 minutes on the middle shelf of the oven. There should be a slight wobble in the center.
Turn the oven off and allow the cheesecake to cool in the oven for half an hour with the door closed.
After a half hour, remove it from the oven and let it cool at least a further 45 minutes at room temperature before covering (a plate over the top of the tin is fine) and placing in the fridge to set completely. Let it set for at least 4 hours.
Remove from the pan, serve, and enjoy!
For Ingredients And Complete Cooking Instructions Please Head On Over To Next Page Or Open button (>) and don't forget to SHARE with your Facebook friends