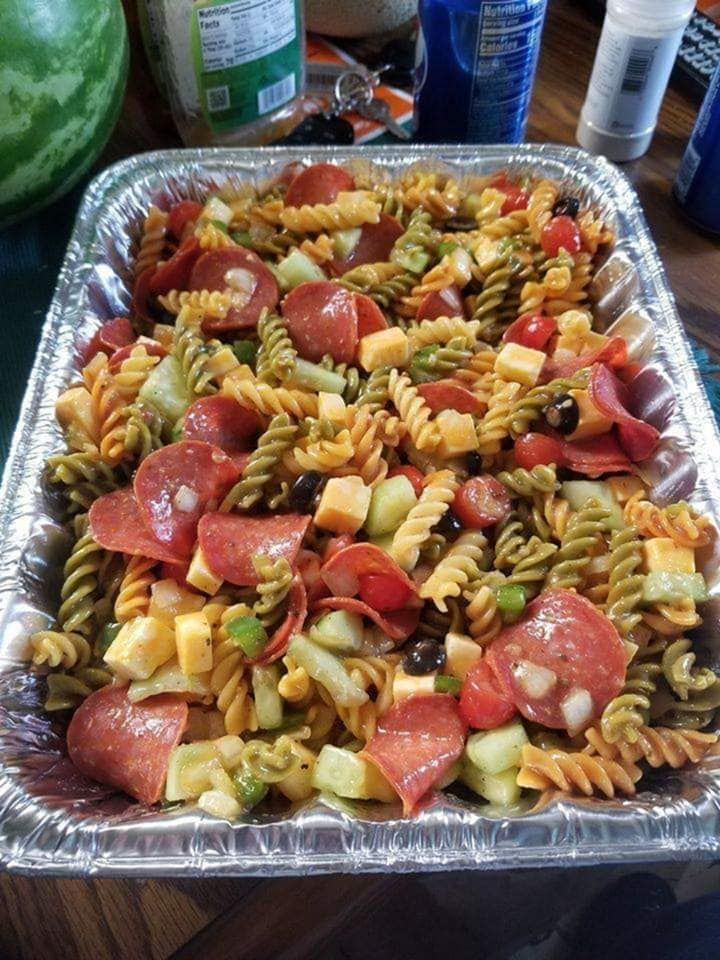 My 12 year old son 1st pasta salad for my Aunt's 70th birthday…can't go out so we have to enjoy at home🤩
For those that would like to know…I don't have an actual recipe but these are the ingredients used:
A stupidly easy Italian pasta salad with rotini, juicy tomatoes, fresh mozzarella, red onion, salami, olives, herbs, and a drench of quick homemade Italian dressing.
If you want to know what I've eaten for 4 of my last 5 meals, it's THIS SUMMER ESSENTIAL. We are kind of having a moment here.
Every time she served it she would change the recipe just a little bit. Yet her pasta salad always included fusilli pasta, little slivers of hard salami, black olives, tomatoes, and cheese.
Over the years, I've made her recipe, tweaking it as I go, just as Mo always did. Lt. Dan says my version of Mo's pasta salad is "Legit" and that's really saying something. To him, Mo was the queen of all things. She certainly left her mark on both of us.
Is there a more quintessential summer side dish than pasta salad? This cool salad keeps well for picnics and potlucks, you can make a big batch to eat for no-cook lunches throughout the week, and just about everyone from your kids to your mother-in-law will eat it!
For Ingredients And Complete Cooking Instructions Please Head On Over To Next Page Or Open button (>) and don't forget to SHARE with your Facebook friends
advertisement