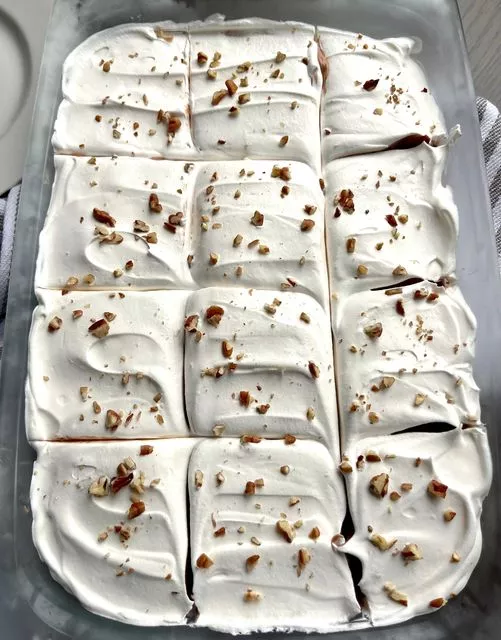 You can never have too many potluck dessert dishes in your recipe collection and today we have a real fan favorite! A layered dish of a crunchy pecan crust, rich and creamy chocolate pudding, and light and fluffy cool whip topping, this Chocolate Pecan Delight is sure to please anyone with a sweet tooth. It's one of those convenient dishes that can be made ahead of time and stored in the fridge until ready to serve, saving you the hassle of making a dessert the day of a big event!
Using packaged instant pudding mix and a tub of cool whip make assembling this dish a breeze. The only baking you'll have to do is for the crust. A mixture of flour, butter, brown sugar, and finely chopped pecans comes together into a crumbly texture that you'll then press into the bottom of a 9×13 pan. Pop the crust in the oven for 15 minutes and the rest of this dessert requires mere whisking and layering.
For the pudding layer, you'll mix together both chocolate and vanilla instant pudding mix and three cups of milk (we prefer whole milk for an extra rich flavor). Once the pudding mixture is smooth, add in the powdered sugar, cream cheese, and one cup cool whip. The mixture will be thick! Spread the pudding onto the crust once it's cooled and then top it all off with a layer of cool whip. Dust the cool whip with additional pecans or mini chocolate chips for a finishing touch.
Between the sweet and nutty pecan crust and the deliciously creamy pudding, you'll be hard pressed to find someone who doesn't love this treat. Perfect for every occasion from dinner parties to birthdays, you really can't go wrong. Give it a try and you're sure to be… delighted!
For Ingredients And Complete Cooking Instructions Please Head On Over To Next Page Or Open button (>) and don't forget to SHARE with your Facebook friends
advertisement