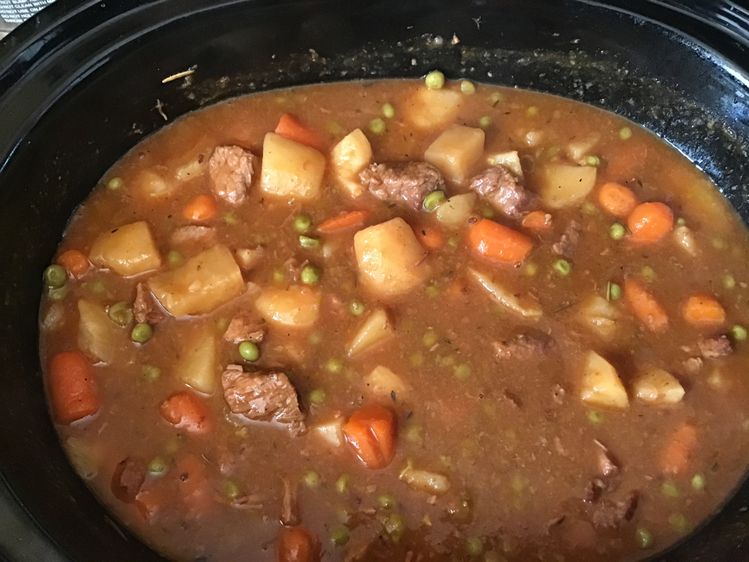 I took my grandmother's recipe and trimmed the fat and boosted the flavour.
* Ingredients :
° 1 pound lean beef, trimmed and cut into 1-inch cubes
° 2 tsp allpurpose flour
° 2 tsp vegetable oil
° 2 onions sliced
° 2 cups fresh sliced ​​mushrooms
° 2 cloves minced garlic
° 2 teaspoons tomato paste
° 2 cups beef broth
° 4 cups sliced ​​carrots
° 2 russet-potatoes, cut to 1/4 inch tranches
° 1 cup fresh chopped green beans
° 1 tablespoon cornstarch
° 1 tablespoon cold water
° cup chopped parsley
* directions :
Step 1
Cover the meat with flour, discarding the excess. In a large nonstick saucepan, heat the oil over medium-high heat, add the beef and fry until browned, about 6 minutes. Remove the meat from the pot and set aside.
Step 2
Add onions and mushrooms to the pot and saute for 6 minutes. Adding garlic & saute for 1 min, stir constantly.
Step 3
Remove any fat from the stockpot and return the cooked beef to the pot. Add tomato paste and broth. Add enough water to cover the ingredients and bring to a boil. Reduce the heat to low and simmer until the meat is tender, 1 hour 15 minutes.
Step 4
Remove any foam that has built up on the surface of the soup and add the carrots, potatoes, and green beans. Partially covered and simmered for 15 minutes.
Fifth step
In a small mixing bowl, mix cornstarch and cold water. Stir the mixture into the soup. Increase the heat and let it boil for one minute. Sprinkle with parsley and serve.
Enjoy !
For Ingredients And Complete Cooking Instructions Please Head On Over To Next Page Or Open button (>) and don't forget to SHARE with your Facebook friends